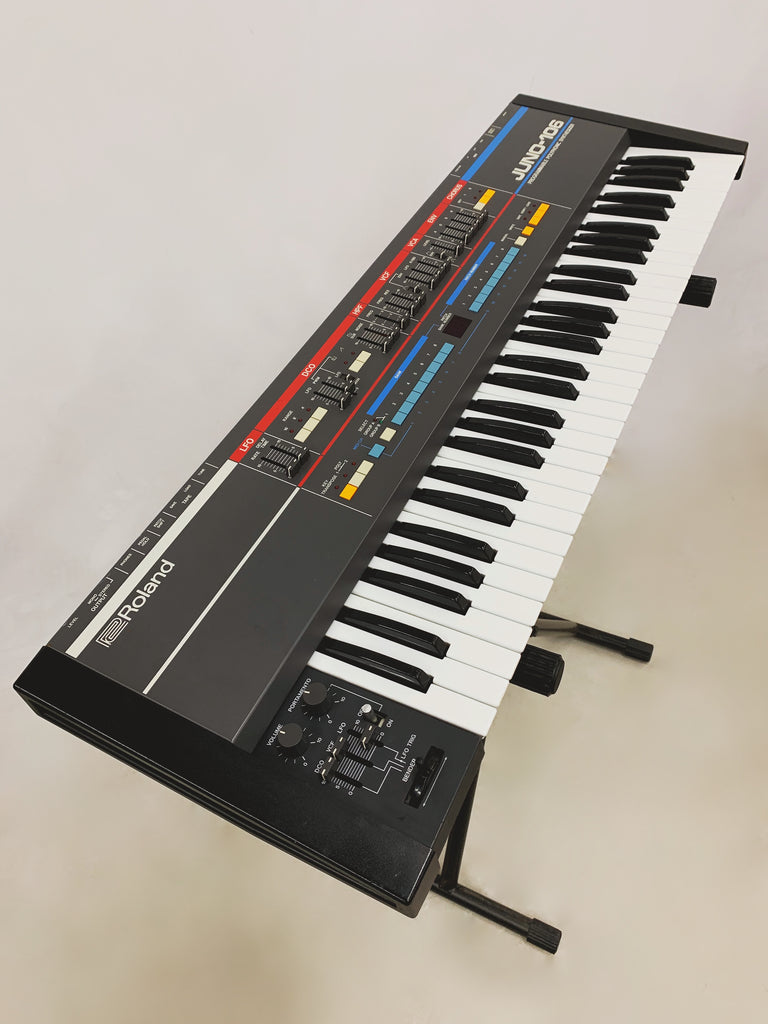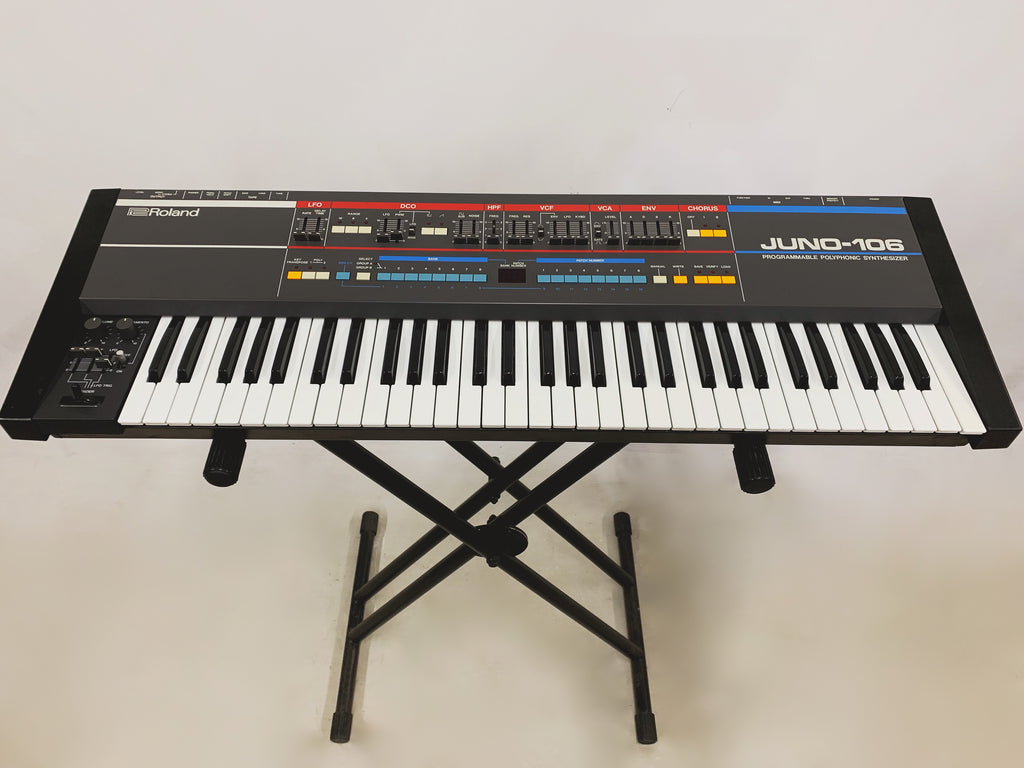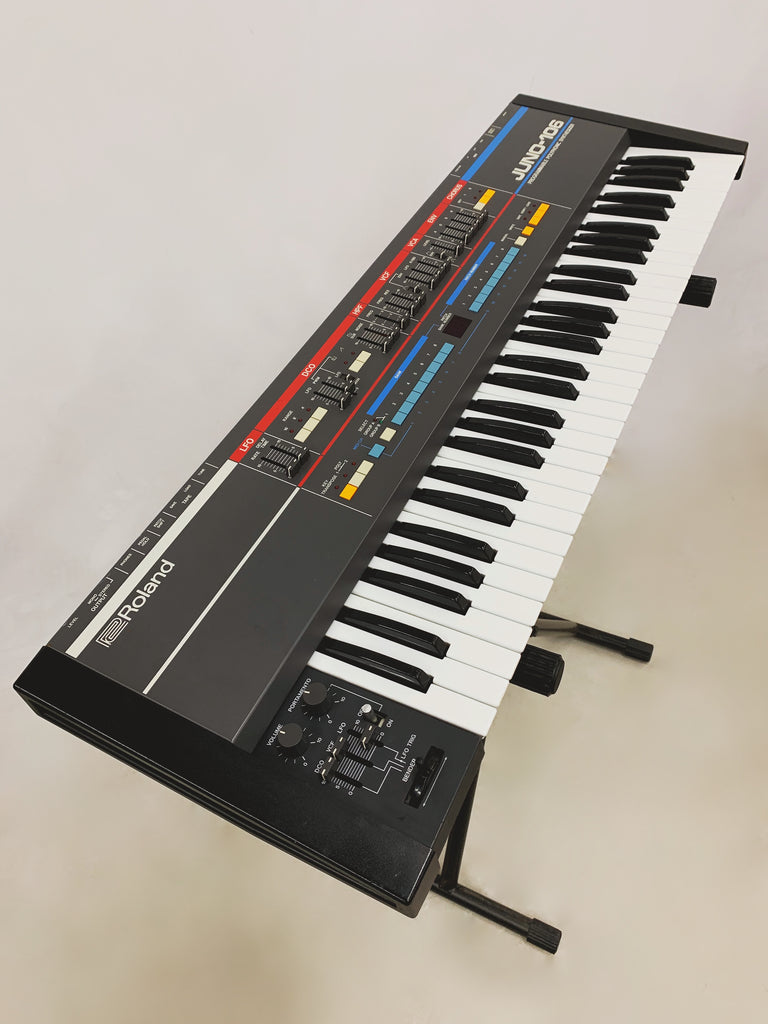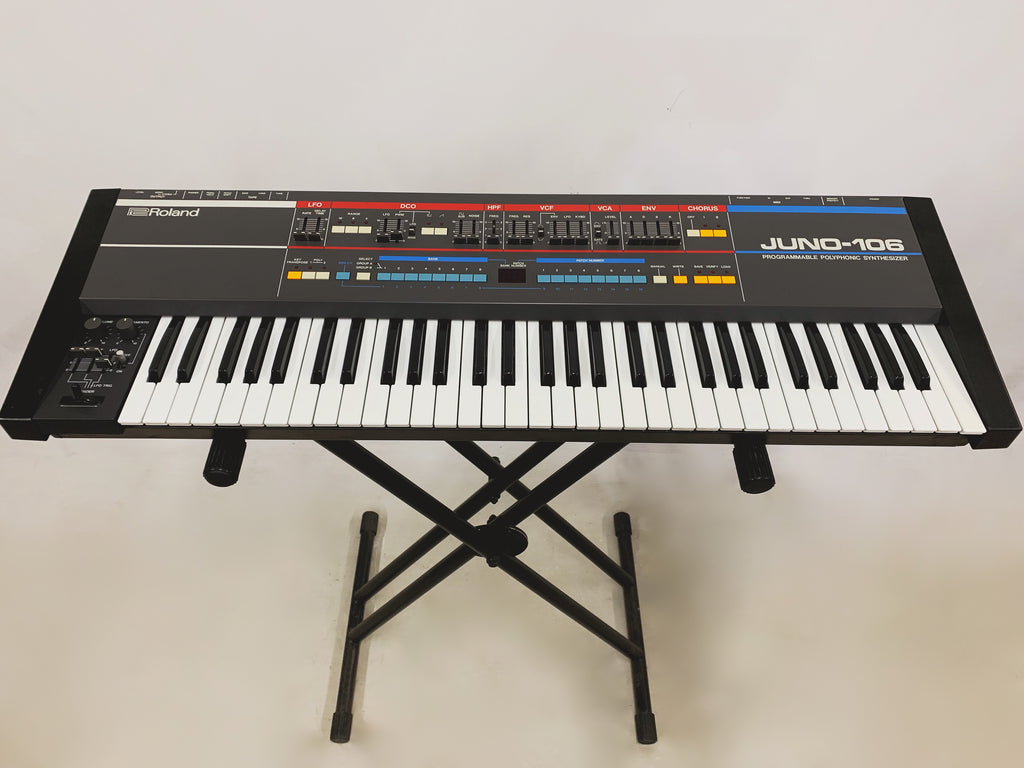 Roland Juno-106 Polyphonic Synthesizer
Custom Vintage Keyboards is proud to bring you another gem on a restoration. 
This is mint condition Roland Juno-106 has been Fully serviced and Calibrated with the  necessary six replacement voice chips, we choose analog renaissance chips which we've fitted hundreds without issue, they are very reliable and sound great! We also added the IEC type power connector so it'll never be a problem if you loose the cable.
The Juno-106 was popular with artists such as R.E.M. (Ken Stringfellow played it live on some tours), Vince Clarke, Frankie Goes to Hollywood, Leftfield, William Orbit, Tangerine Dream, Underworld, and Vangelis.
Due to their enduring popularity and despite their overall simplicity and limited range of sonic possibilities, Juno-series synthesizers still make appearances with a number of bands, including Son Dexter, The Black Eyed Peas, Blue Nile, Steve Adey, Franz Ferdinand, Covenant, Clarence Jey, Daft Punk, Dosh, Moby, New Order, 808 State, The Chemical Brothers, Chvrches, Justice, Jessy Lanza, 2-D of Gorillaz, Mutemath, Sigur Rós, Solemn Camel Crew, Capital Inicial, Doll Factory, Islands, Legião Urbana, RPM, the Unicorns, Steve Hillier of Dubstar, Pet Shop Boys, Mansun, a-ha, Laserdance, Late of the Pier, the Automatic, Tame Impala, Four Tet, Pivot, the New Deal (band), Andy Kuncl, Howlermonkey, Winter Palace, Passion Pit, Bleachers (band), Voyag3r, Chromeo, Dallon Weekes and scores of other projects. Joanna Newsom played the Juno 106 on her album Divers for the songs 'Anecdotes' and 'You Will Not Take My Heart Alive'.
As with all our restorations, we offer a 3 month warranty. We will pack and ship this anywhere in the United States and international (must contact office for international services). If you are in the area of North Hollywood, California, it is available to play in our show room.